Assortment
At Dresz, we love candles.
Candles are the perfect addition to any home, gift and garden assortment. Dresz offers a wide range of candles, including rustic dinner candles and pillar candles, plant-based candles, outdoor candles, scented and shaped candles in seasonal and themed variations.
Our candles inspire people to add a touch of warmth to their daily lives.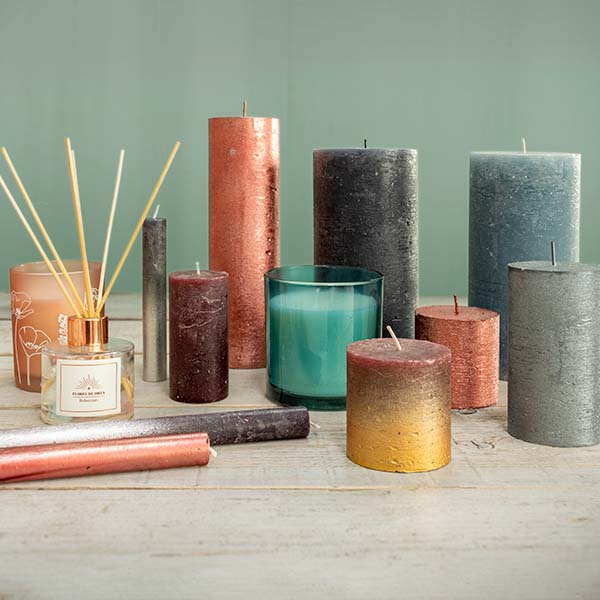 Quality and environment
Quality and fire safety are a high priority at Dresz. We are committed to our products 100%. Because of the close cooperation with our partners, we are able to offer candles of the highest quality. All candles comply with European regulations and come with test documents that guarantee their fire safety and soot behaviour according to the EN standards.
Our tea lights have a RAL quality mark.
This is a well-known quality mark that sets high standards for the quality of candles. Many of our candles are produced according to strict quality requirements from fully refined paraffin. Our plant-based candles are even cleaner.
We are now also RSPO certified.
For our tea lights, we only use palm oil from RSPO certified plantations. Here, sustainability, people and the environment are central. This way, leftovers and waste are reused and rainforests remain in good condition.
Every Dresz candle has its own strong characteristics that we would like to highlight.
Basic collection
Through-and-through coloured rustic dinner candles and pillar candles.
Handmade in the EU.
100% fully refined paraffin.
High quality.
Coloured through and through.
Many burning hours.
Produced and tested according to the highest quality standards.
Many sizes available.
All colours possible.
Plant-based
Available in various sizes,
shapes and colours.
Distinctive in that they are produced from vegetable materials.
Materials: olive stearin, rapeseed or soya, possibly in combination with paraffin.
The plant-based components ensure that the candle burns longer and more beautifully, but also that it emits less soot.
Trend
Various shaped and scented candles with or without holders.
Outdoor candles including torches and outdoor candles.
Perfect additions for themes or
certain seasons.
Tips & safety
To ensure safety before, during and after burning our candles, there are various symbols on the products which indicate how to handle our candles in a safe and responsible manner. To do this, look carefully at the packaging of the candle.
Please note that the symbols only indicate an abstract level of reality.
There are also different safety symbols for the various candles. Please read through them carefully and observe the symbols!
Below is a complete overview of all symbols that may apply to our candle collection.
Symbols
1. Before lighting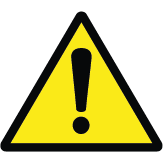 Always read the instructions on the package before use.
Remove all packaging/decorations before burning the candle.
Shorten the wick before burning and in between to about 1 cm if necessary. Make sure the wick is kept clean, short and upright.
Make sure there is enough distance between burning candles. The minimum, safe distance between burning candles is 10 cm.
Make sure the candle is sturdy and upright. Always use a non-combustible candlestick, holder or coaster.
Never place a burning candle near curtains or other flammable objects.
Do not place candles in a draught.
A candle placed in a draught will always smoke and drip.
Do not place a burning candle close to a heat source such as sunlight, a heater or a fireplace.
The candle should always be in a non-flammable and suitable candle holder.
Always use a suitable holder, because this candles become completely liquid while burning (this applies to drip candles).
Use tea lights only in containers with adequate ventilation. Tea lights need oxygen to burn properly. (This applies only to 4-hour tea lights).
These tea lights are not suitable for use in a rechaud or other heat holders.
Light the candle only 1 time
(this applies only to 4-hour tea lights).
2. While the candle is lit
Never leave a burning candle unattended.
Burn candles out of the reach of children and pets.
Do not touch the candle, it will get hot.
Do not place a burnt match or other materials in the candle-grease. This can create a second flame, causing the candle to burn up improperly and cause dripping and fumes.
Do not move a burning candle. Extinguish the candle before moving it.
Do not extinguish a candle with liquid.
Preferably not blowing out the candle yourself. Extinguish the flame with a candle snuffer or wick dipper.
Ventilate the room after burning candles.
The outer edge of the candle should always be cut to a height of 1 cm.
Avoid inhaling the smoke directly after extinguishing the candle.
4. Additional burning instructions
– Candles should not burn smaller than 2 cm, this applies in particular to dinner candles.
– Always be careful when burning candles!
Frequently asked questions
Our rustic pillar and dinner candles are made from 100% fully refined paraffin.
Our plant-based candles consist of various plant-based waxes possibly in combination with paraffin.
Our tea lights include palm oil that is fully RSPO certified.
Our trend candles burn the shortest in proportion. They generally have a more decorative function.
Our rustic dinner and pillar candles can burn for a very long time under the right circumstances. The number of burning hours is indicated on the packaging of the candle. The burning hours are determined by the size of the candle in combination with the wick.
Plant-based candles can burn even longer due to the use of wax.
Please note that the indicated burning hours are indicative! The burning hours require correct use of the candle.
The label, hangtag or sleeve around the candle should always be removed before burning the candle.
Also remove the sticker on the bottom of the candle before burning the candle.
However, keep this sticker with the fire symbols for proper use of the candle.
In particular, before burning, but also during burning, make sure the wick of the candle is no longer than 1 – 1.5 cm.
If the wick is longer, the candle may start to smoke more quickly. Therefore, shorten the wick with scissors to the recommended height.
Note: do not leave wick residue when cutting.
The diameter of the candle combined with the wick determine how a candle burns up. The wider the candle, the larger the edge that remains. It must therefore be trimmed regularly otherwise the candle will burn down and this can cause fumes. Each candle needs time to melt the paraffin around the wick. Make sure that the pillar candle has burned at least that the top layer of paraffin has become liquid.
Make sure the wax has solidified and gently remove the solidified residue by hand.
Place a sheet of kitchen paper over any remaining wax residue and gently iron over it with a hot iron. The candle wax sticks to the kitchen paper and comes off.
Make sure there is enough distance between the candles. The standard is at least 10 cm.
Make sure the candle is in a suitable holder before lighting.
Do ensure adequate ventilation after burning multiple candles. Each candle creates some soot formation, so the more candles you burn at the same time, the greater the soot formation.
Preferably do not blow out the candle. Always extinguish the candle with a candle snuffer or wick dipper. This prevents splashing of the hot candle wax. If you don't have a candle snuffer or wick dipper, please blow gently and keep your hand behind the flame.
Contact us via the contact form below.
Please fill out the information as completely as possible so we can better handle the question and then contact you.
Service / complaint form
At Dresz, we value our standard of quality. We are therefore interested in experiences and any complaints about our products. On this basis, we can improve our candles even further. Would you like to share your experience with us? Or do you have a complaint? Please fill out the form below as completely as possible. In order to handle your complaint in the best possible way, please fill out this form truthfully.
Upload image
If you experience a problem with one of our products, we ask that you save your products and send along some pictures of the product so that we can help you better.
File format: JPG, JPEG or PNG with a maximum size of 3 MB.